Over the last couple of months I've been focusing on getting into habit of increased training duration and distance. I've build program that is going to carry me through marathons and Taupo Challenge in few months. I wouldn't be me if I did not collect data from that period. Below you can find few charts documenting progress together with some info about Training Peaks software.
The plan was build around building distance for running and cycling. First 5 weeks served as an adaptation phase, when I didn't increase distance but just wanted to get back into higher load. That required taking small step back, dropping majority of weight lifting (I simply didn't have any strength left for that) as well as hanging my climbing gear on a rack for a time being (no time for that!). I simply tried to complete every planned workout. While "every" was little too much, this strategy proven to be working for me really well.
I believe that running is a discipline that should take majority of my time these days. Mainly because I'm doing two marathons this year (and probably few minor runs as well), but also 'cause it's the first time when I actually start feeling good progress there. Many things changed in the way I run recently. I got my shoes fit for me, turned out I should wear size 45 instead of 43. That should make me stop losing my toe nails. Who knew ;). I also try to implement training polarisation rule as much as I can. In one sentence - make easy sessions really easy and hard sessions really hard. I'm now getting into constantly increasing distance period and I feel really strong and ready.
Cycling has been lacking since I moved to Auckland. You see, back in London I lived about 14km away from work, so I'd been cycling 30km 5 times per week. When I got here, I rented flat only 4km away from work, with multiple lights on a way, so it's just not worth an effort. On top of that Auckland is not as cycling friendly as London. I know it's just an excuse, but it made me switch to motorbike. Thankfully I'm moving 18km away from work, and majority of that distance can be done through separate bike path. Can't wait. Nevertheless I've been doing maintenance / interval workouts, mainly on my Tacx. Recently I also got new MTB bike and discovered new world of Woodhill Bike Park.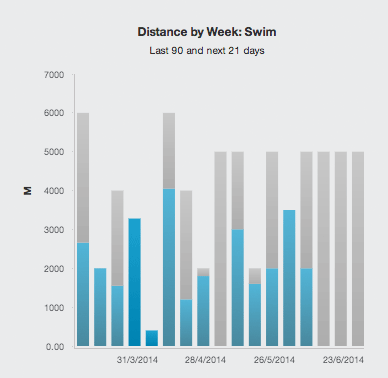 I've been slacking with swimming recently and I still struggle to be consistent there. I'm quite good in finding excuses for not completing (or even starting) swim training. It got better in last two weeks, but it will take much more before I can be happy with it. Yet I've been trying to do two workouts per week with no much of a plan there. Just some distance, drills, sprints and paddle swims. Definitely something to look into in near future. 9 months till Ironman Taupo is not that much actually.

One thing that I've been using more and more is Training Peaks performance manager.
It might not be too clear at a first glance but there is a lot of interesting information shown there. Thick blue line with shade beneath represents chronic training load which represents overall quantity (combination of frequency, duration and intensity) of training. It should steadily build through the season.
Yellow line represents Training Stress Balance, which might be described as a balance between training and rest / recovery. Keeping it on negative will represent progress, while positive numbers will usually relate to complete break in training (post race etc).
You can also clearly see training history few months back that sometimes show different values to your feeling at that time. For example there is a big climb in Training Stress Balance around April (before ITU Olympic distance triathlon). It went up to 26, which means that I wasn't doing even remotely as much as I should have been. There is also quite big dip (up to -31), which was Tongariro Crossing 24 km hike. I really needed a rest after that one.
History is also visible on distance charts above. I might think that I'm doing well at any given time, but then after checking those charts it turns out that the training was not consistent at all. Just compare first and second half of those charts. Consistency is a key (yeah, swimming, I know…)
Another good thing is planning. After you gather some data, you can clearly see if your training plan is realistic, or perhaps not hard enough. On the performance chart I put only one week (it requires entering another value beside time and distance for planned workouts).
There are many more features of Training Peaks, so the best you can do is just registering and checking for yourself. Bear in mind that most of charts are not available in free version, so you have to be ready to pay some after free trial month.