If you're new to the triathlon world (or you've been living under a rock) you might have not heard about John Newsom before. Otherwise you should know that together with Bevan James Eyles he runs IMTalk podcast. He also organises crazy Epic Camps. I just took part in a mini one in Christchurch, NZ.
Ironman New Zealand is in 5 weeks, so the camp seemed like a great way to boost my fitness and test myself again before the big race. I've learned much more than expected!
Saturday
We started the day with a swim session in the pool. The goal was to try various paces, so we did 4x200 increasing set, among others. Meanwhile John recorded us for catch analysis. With an iPad. Seriously!

Later we had a chance to discuss the short video. Seems that my elbow drops during the pull phase, thus preventing me from utilising the full stroke. Something to work on.

I noticed another interesting thing during 4x200 set. While on the first three intervals I got progressively faster, the 4th one was actually slower despite a much bigger effort. So when I try to go fast - it just doesn't work. Proper form over power, I guess. Quick snack, coffee and off we went for the 130km bike ride to Bealey. Quite a challenging ride, with 1500m of elevation gained.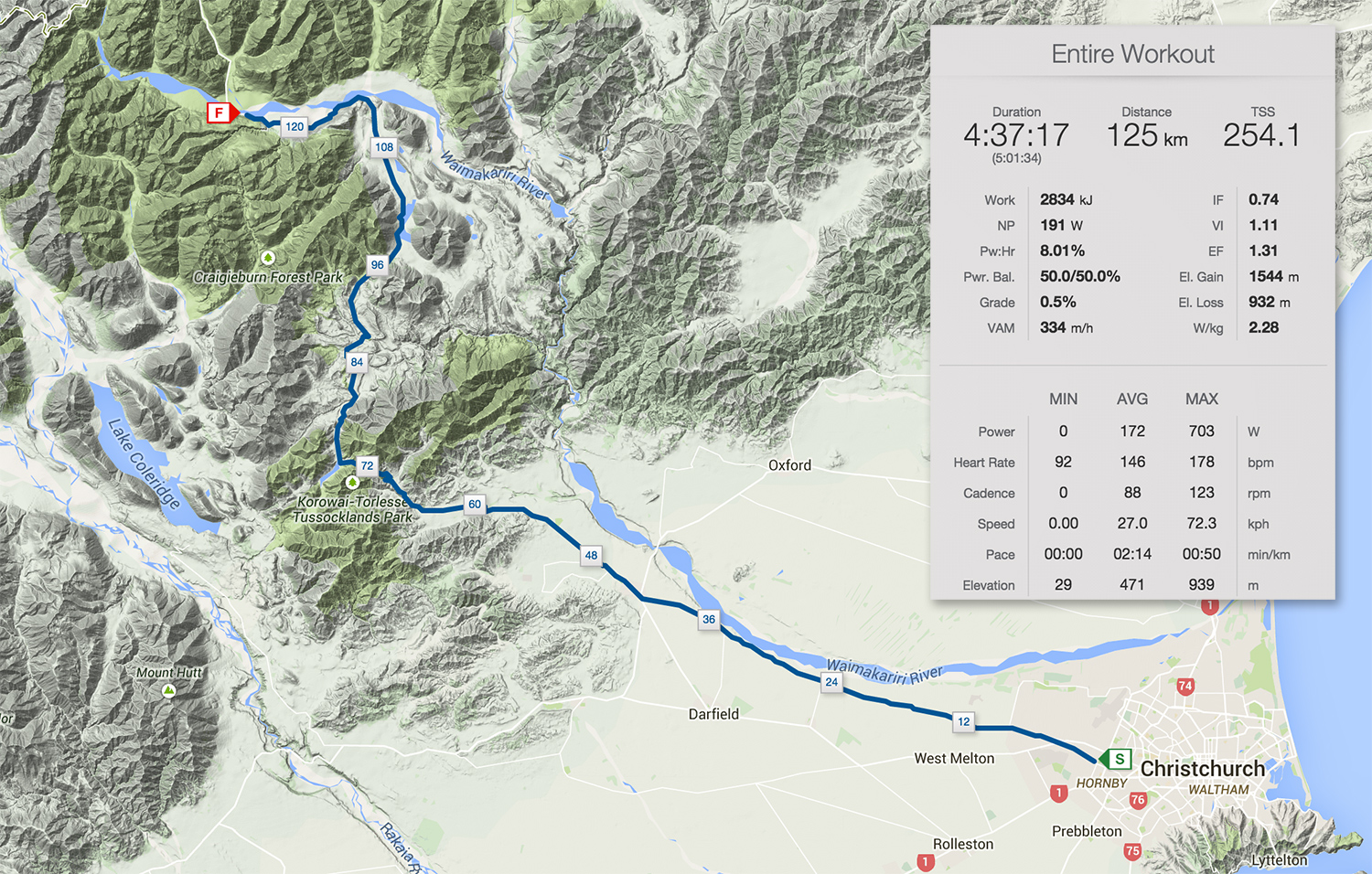 For the flat part I was focusing hard on keeping my cadence high and I averaged 95 RPM. Then, on the hilly bit I simply ran out of gears. All in all a good ride and I felt fresh. The day ended with short off bike run (20 minutes, just to move my legs). Garmin data: http://tpks.ws/8Mwp

Quite a view from the hotel.
Sunday
Few people started with short run before bike, but I skipped that session as I wanted to go for a run after bike again. We then cycled 70 km further west to Lake Brunner in pretty shitty conditions (wind, rain and fog). Most of us took a bus down the most hilly part (16% gradient) as we simply didn't trust our brakes on that wet road. One day…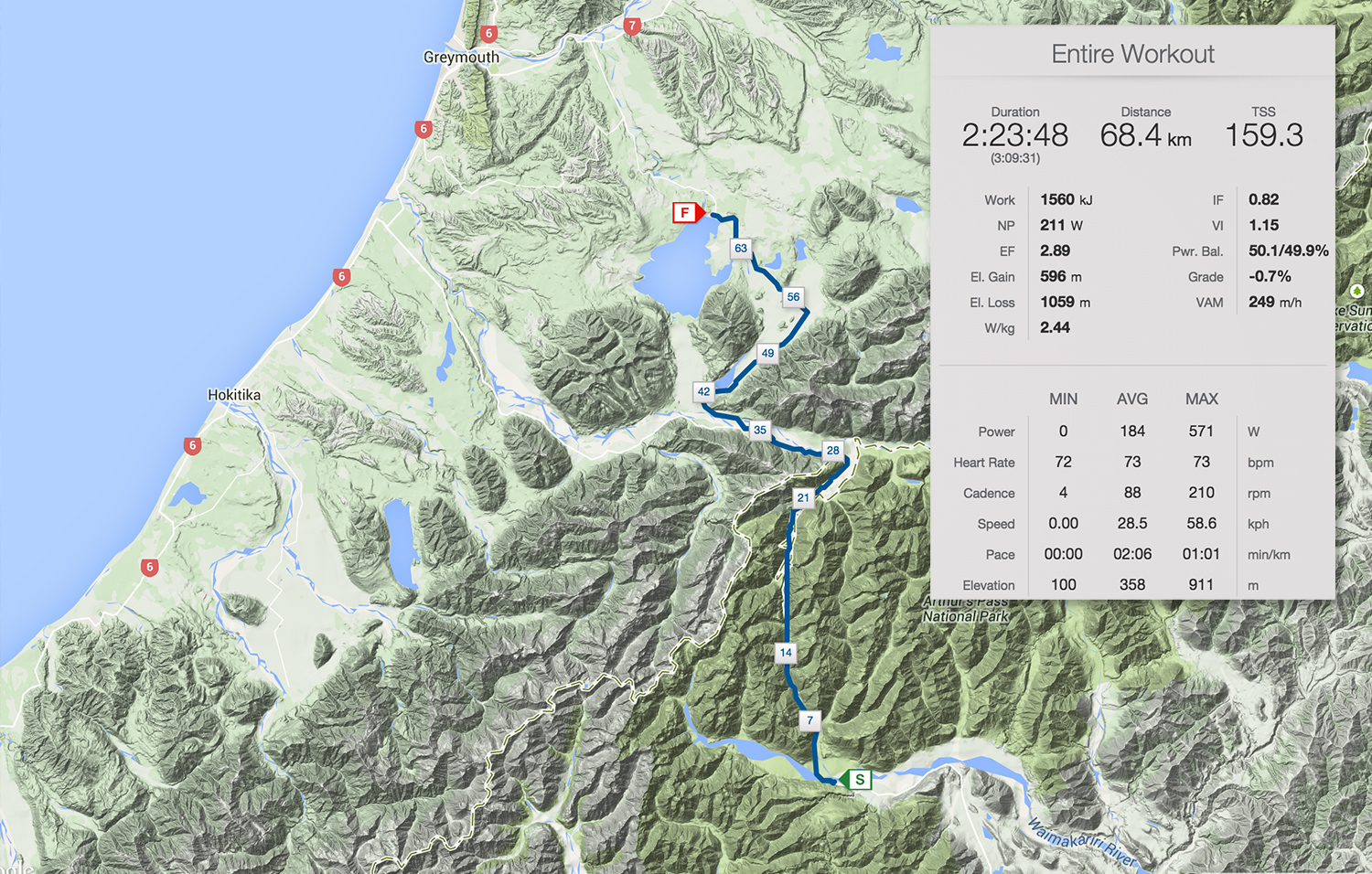 My Garmin decided that I don't need heart rate data from that ride. It felt like an easy effort though and off bike run went pretty well. Garmin data: http://tpks.ws/TKdR After short rest / nap we went for a lake swim that included lots of skill work. I don't remember swimming in such clear water.

Surprisingly, the weather there was really great!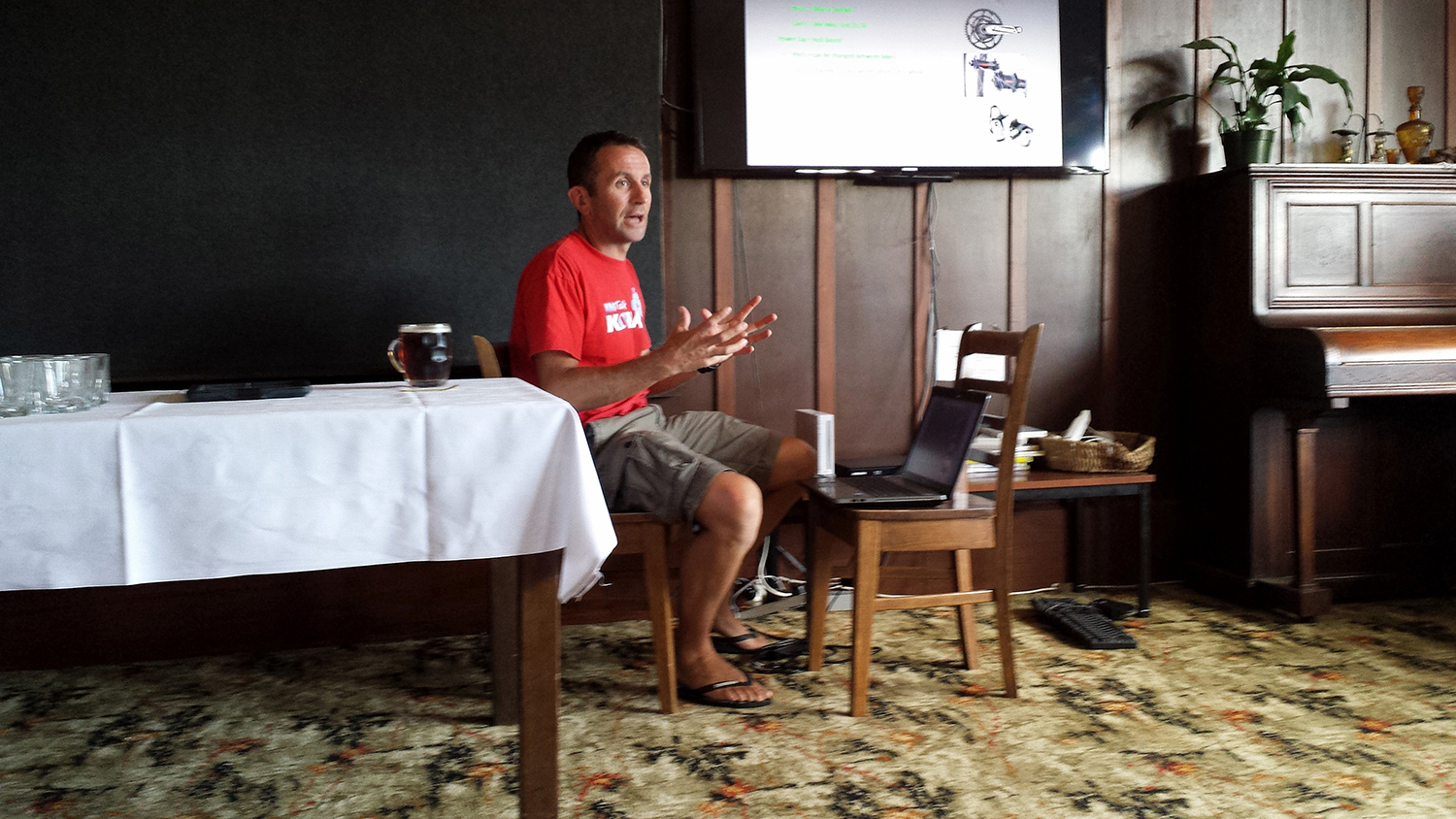 The day ended with a little talk about training with the power meter.
Monday
Run day. We started with a long continuous swim (45 minutes with no break) and then took a bus to the start of the point to point off-road run. Still without HR monitor I just decided to enjoy it and keep high run cadence. It was hot and humid but I liked every part of it.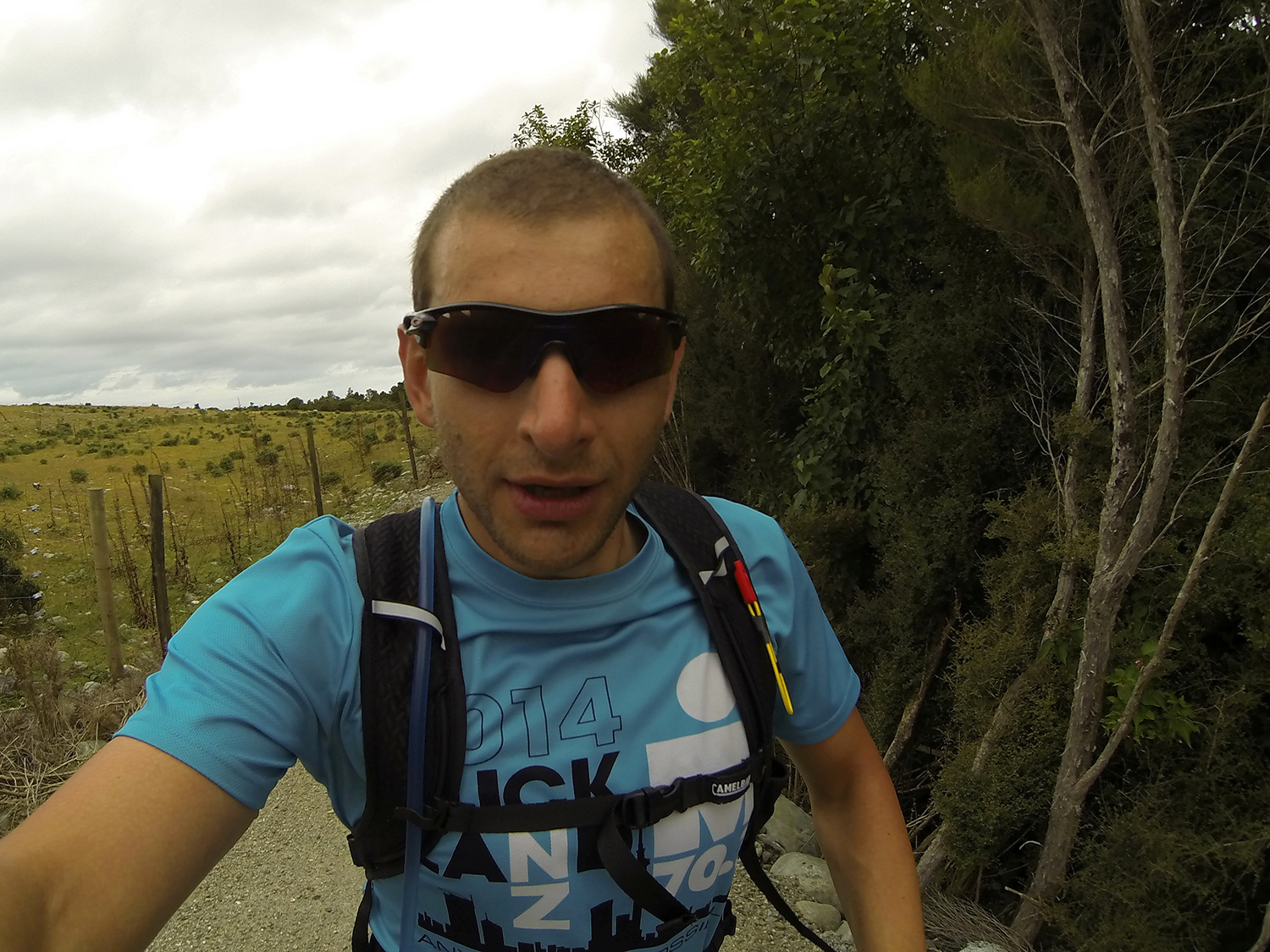 I did 2 hours in the end and felt tired, as per usual after a longer run. That's when John ordered (ok, highly recommended) to go for an easy ride home. Wait, what? How is doing more stuff supposed to make me feel better? There was only one way to find out.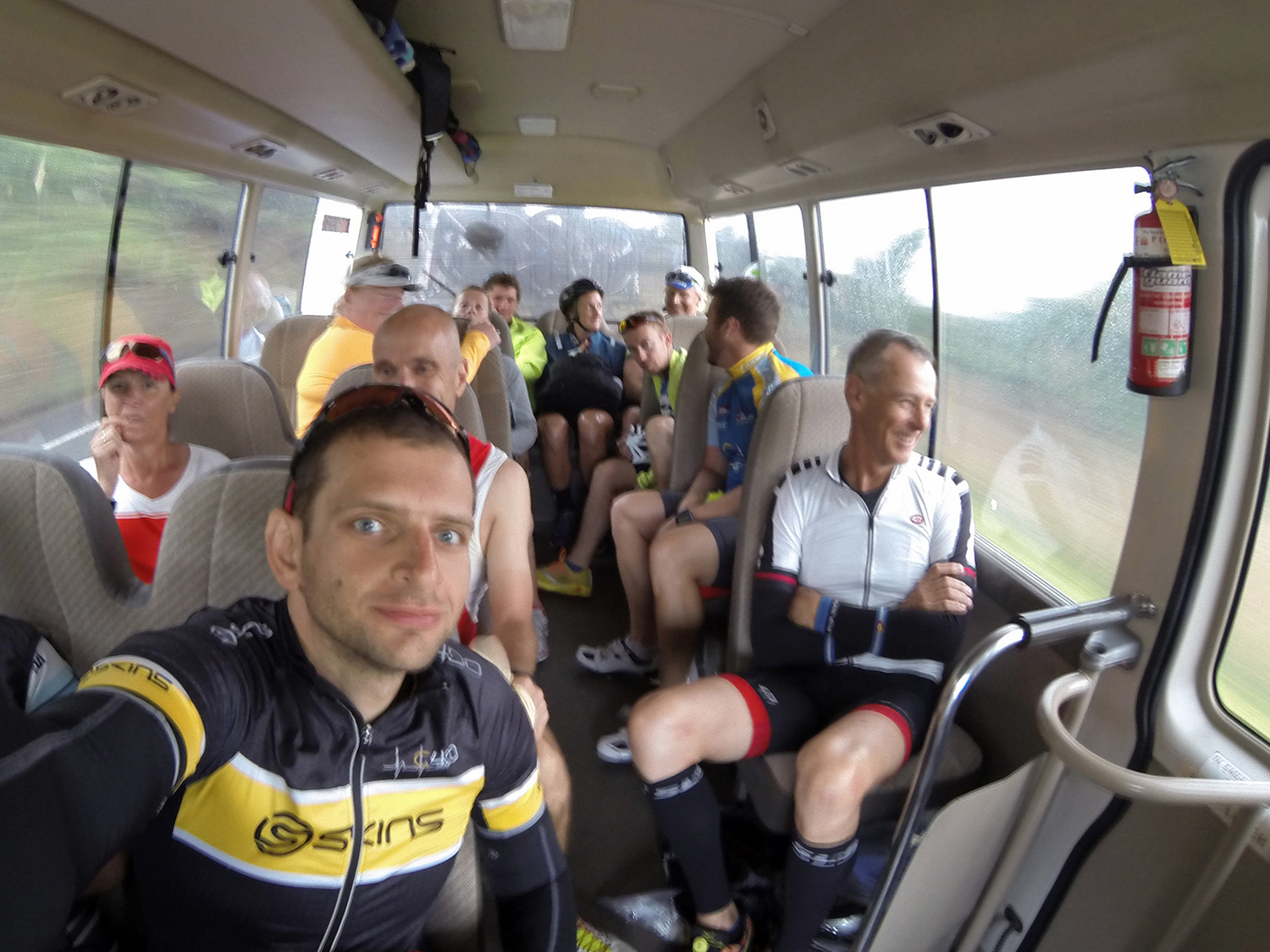 Since it started to rain heavily, we cut the bike a little short and did 40 km. Easy spin, averaged 151 watts. And my legs have never felt better after run. I was seriously surprised. Garmin data for run and bike
Tuesday
Big ride home. With changeable weather, from rain through sunshine to more rain and wind, we did 200 km. The goal of the ride was to push Ironman pace over last flat part of the ride. I averaged 180 watts on quite low HR over 50 km.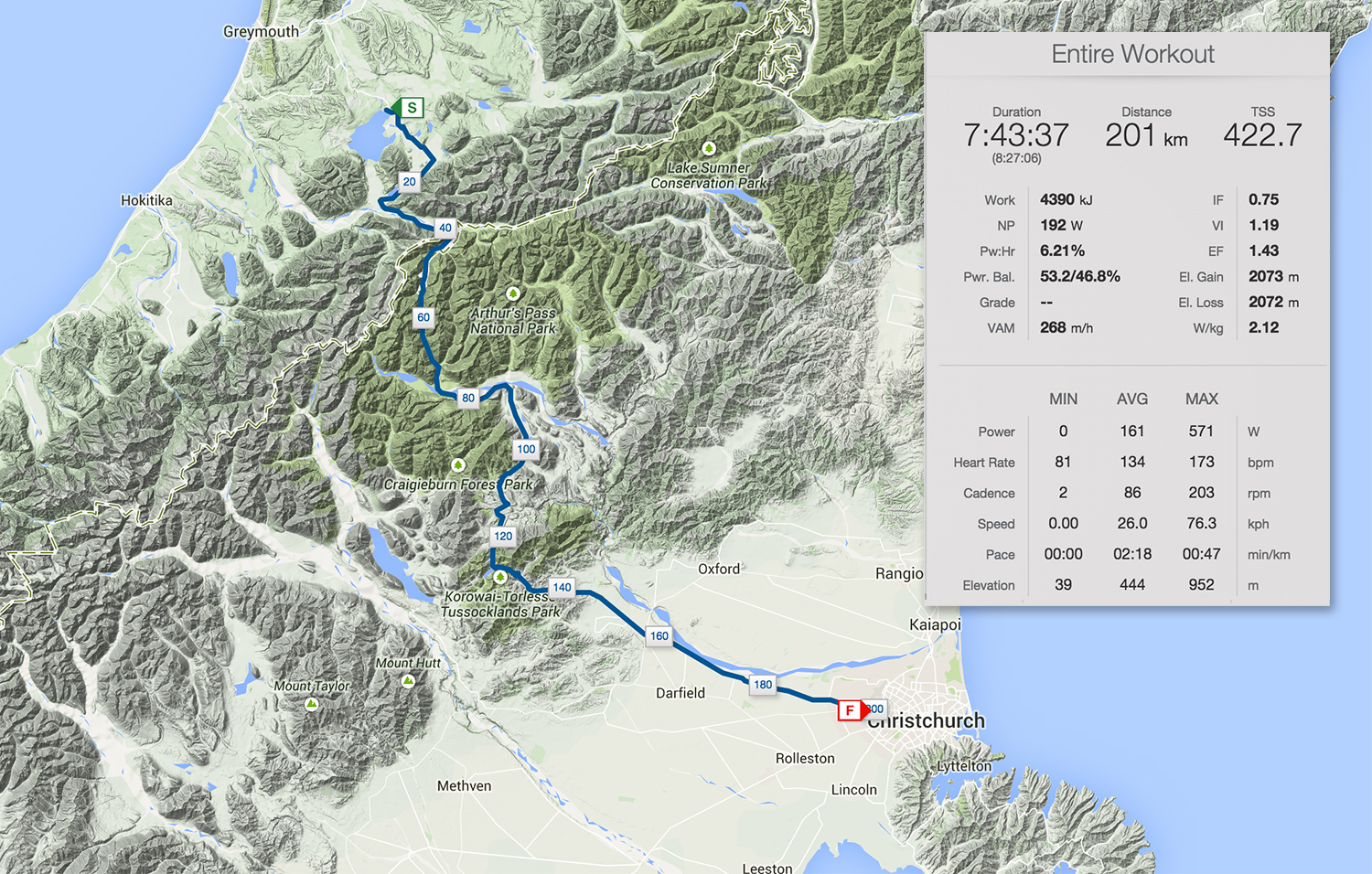 I must say that it felt better than expected. Garmin data: http://tpks.ws/DIeV I think that the most important thing to take away from this camp is the fact that our bodies can cope with much more than we think it can and that recovery is really crucial. Over these four days we've been served great food on every occasion and we had to do absolutely nothing other than training. I miss it already! Check out IMTalk podcast Episode 449 for camp recap from John himself.